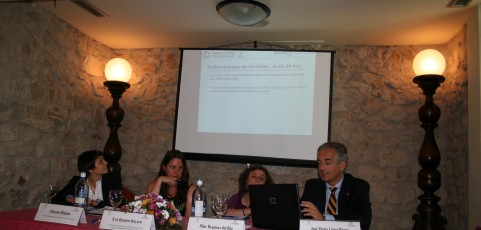 The President of the Foundation for economic and social development Hispano-Moroccan (FHIMADES), Jose Maria Lopez Bueno, participated in July 2010 in the III summer course organised by the Robert Schuman Institute of European studies and the Universidad Francisco de Vitoria.
Lopez Bueno was one of the speakers at the round table entitled "Europe and its neighbours: the EU neighbourhood policy", in which intervened Oksana Diakun, first Secretary of the Embassy of Ukraine in Spain, and Pilar Requena, jou of TVE, the moderation of Eva Ramón Reyero, Director of the Centre of European documentation of the Universidad Francisco de Vitoria.
The course was directed at University students of law, economics, business studies, political science and sociology and information sciences, postgraduate students performing their studies of doctorate and doctoral theses in the field of international relations and the law of the European Union, members and opponents to the diplomatic corps, businessmen, chambers of Commerce and consultants. The Institute Robert Schuman of European studies of the Universidad Francisco de Vitoria was created with one goal clear: awaken the interest of college students by the European Union.
The summer course "Friends, neighbors and partners" on the external relations of the European Union aimed to offer complete and up-to-date training on the European reality and the process of integration into the EU. Through this course, the Robert Schuman Institute, intended to provide a clear vision and deep, offered by specialists, the current situation in which the external relations of the Union, comprising association agreements, political accession and neighbourhood.